Introduction: European Roulette Online
Ready to dive into the exciting world of online gambling? If you want to play European roulette online, you've come to the right place! This easy guide will teach you everything you need to know to start enjoying this popular game. With our step-by-step roulette guide, you'll be placing bets and spinning the wheel in no time. So, let's get started!
1. Understanding European Roulette
European roulette is a classic casino game that has been popular for centuries. It is played on a wheel with 37 numbered pockets (from 0 to 36), alternating in red and black colors. The main objective of the game is to predict which pocket the ball will land in after the wheel is spun. Players place bets on various options, hoping to win big when the ball settles.
2. Choosing the Right Online Casino
To play European roulette online, you'll first need to find a reputable online casino. Look for casinos with good reviews, top-notch security, and a variety of roulette options. Make sure the casino is licensed and regulated to ensure fair play and secure transactions. Keep an eye out for generous welcome bonuses, which can give you a head start on your roulette journey.
3. Setting Up an Account and Depositing Funds
Once you've chosen an online casino, you'll need to create an account to play European roulette. Registration is typically quick and easy, requiring just a few personal details. Be sure to choose a strong password to keep your account secure.
After registering, you'll need to deposit funds into your account. Online casinos offer a variety of payment methods, including credit cards, e-wallets, and bank transfers. Choose the most convenient option for you and follow the instructions to complete your deposit.
4. Navigating the Roulette Table
Before you start placing bets, it's essential to familiarize yourself with the layout of the European roulette table. The table consists of the roulette wheel and the betting area, which includes the following sections:
Inside bets: These are bets placed directly on the numbers, such as single numbers, adjacent numbers, or small groups of numbers.
Outside bets: These are bets placed on broader categories, such as red or black, odd or even, and high or low numbers.
As a beginner, you might want to start with outside bets, as they have a higher probability of winning and can help build your confidence.
5. Understanding Roulette Bets and Odds
One of the most crucial aspects of playing European roulette online is understanding the different bets you can place and their corresponding odds. Here's a quick overview:
Straight-up bet: Placing a bet on a single number (0-36) with a payout of 35:1.
Split bet: Betting on two adjacent numbers with a payout of 17:1.
Street bet: Betting on a row of three numbers with a payout of 11:1.
Corner bet: Betting on four numbers that form a square with a payout of 8:1.
Line bet: Betting on two rows of three numbers with a payout of 5:1.
Outside bets include:
Column bet: Betting on one of the three columns of numbers with a payout of 2:1.
Dozen bet: Betting on one of the three dozens of numbers (1-12, 13-24, or 25-36) with a payout of 2:1.
Red or black bet: Betting on either all red or all black numbers with a payout of 1:1.
Odd or even bet: Betting on either all odd or all even numbers with a payout of 1:1.
High or low bet: Betting on either high (19-36) or low (1-18) numbers with a payout of 1:1.
Remember that while higher odds bets offer bigger payouts, they also come with a lower probability of winning. As a beginner, it's wise to start with simpler bets and gradually move on to more complex ones as you gain experience.
6. Placing Your Bets and Spinning the Wheel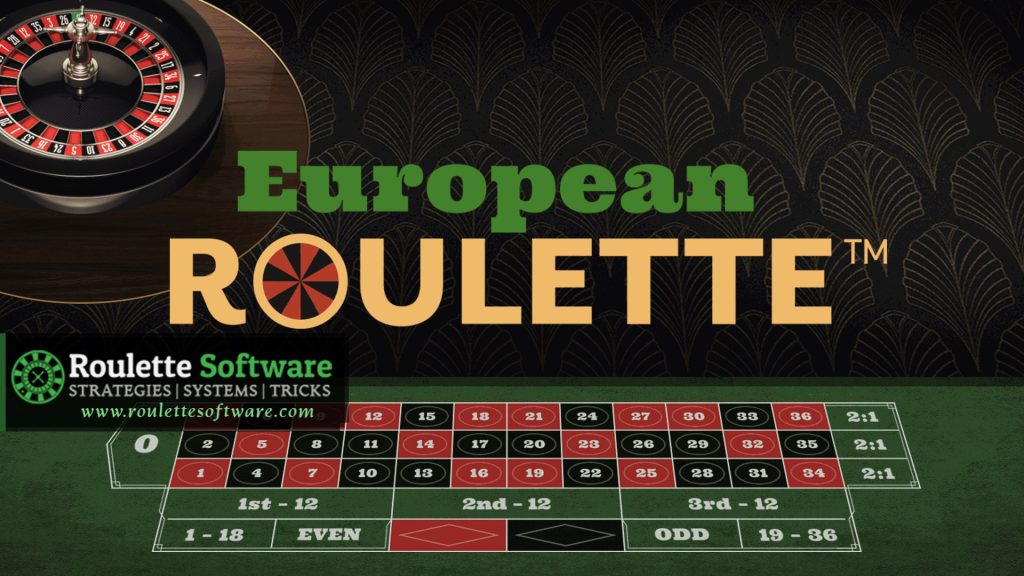 Now that you understand the different bets and their odds, it's time to play European roulette! To place your bets, simply click on the desired chip value and then click on the corresponding area of the betting table. You can place multiple bets on a single spin, allowing you to explore various betting strategies.
Once you're satisfied with your bets, click the "Spin" button to set the wheel in motion. The ball will eventually land in one of the numbered pockets, determining the winning bets. If your bet is a winner, your account will be credited with the corresponding payout.
7. Managing Your Bankroll
A critical aspect of playing roulette online is managing your bankroll effectively. Set a budget for your gambling activities and stick to it. This will help prevent you from overspending and ensure that you can enjoy the game for longer. Additionally, consider using betting strategies, such as the Martingale or Fibonacci systems, to help manage your risk and increase your chances of winning.
8. Exploring European Roulette Variations
As you become more comfortable with European roulette, you may want to explore the various game variations available online. Some popular options include:
Live dealer roulette: Play European roulette with a real-life dealer who interacts with you via live video stream. This option offers an authentic casino experience from the comfort of your home.
Multi-wheel roulette: Play with multiple wheels simultaneously, increasing your chances of winning and adding an extra layer of excitement to the game.
Mini roulette: A simplified version of European roulette with fewer numbers (0-12), making it ideal for beginners or those looking for a quicker game.
9. Practicing with Free Games
If you're still unsure about diving into real-money European roulette, many online casinos offer free demo versions of the game. These allow you to practice and gain experience without risking any of your own money. Once you feel confident in your skills, you can switch over to real money games and start winning big!
Conclusion
Playing European roulette online is an exciting and potentially lucrative pastime. By following this easy guide, you'll be well on your way to mastering the game and enjoying countless hours of entertainment. Remember to choose a reputable online casino, familiarize yourself with the rules and bets, manage your bankroll wisely, and most importantly, have fun!